Fast A1C Results for High-Quality Diabetes Care
Complimentary Whitepaper Download
Ease-of-use point-of-care medical devices provide an advantage in measuring HbA1c in situations where clinical laboratory analyzers are unavailable to provide physicians with real-time information to better manage diabetes. The purpose of this whitepaper is to help healthcare professionals understand the viability of portable, point-of-care A1C monitors.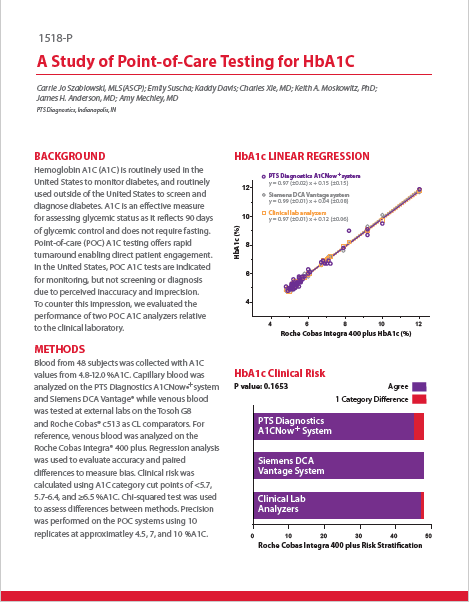 What you will learn from this whitepaper:
How point-of-care devices compared to clinical laboratory analyzers in measuring HbA1c values.
Why point-of-care devices may be viable alternatives to sending blood to laboratories for testing.
* These fields are required.
Lab Quality Results at the Point-of-Care

The A1CNow+ system provides healthcare professionals with a fast and easy way of obtaining accurate A1C results with just a fingerstick. This innovative technology enables clinicians to communicate face-to-face with patients about their diabetes control in minutes, not days.  In addition, the A1CNow+ system is fully reimbursable.
More Efficient than the Lab
Results in 5 minutes
Small (5µL) blood sample
Portable – use in multiple exam rooms
Easy to use – minimal training required
Available in multiple test count configurations
No maintenance
Available with IFCC (mmol/mol)
Certifications
National Glycohemoglobin Standardization program certified
CLIA-waived
IFCC-traceable
FDA-cleared
CE