CardioChek Products Overview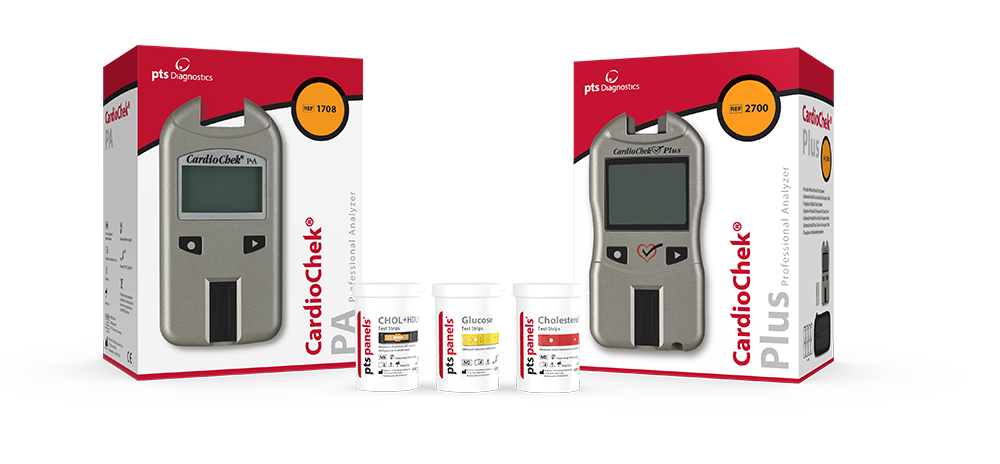 The CardioChek® family of products includes medical devices, test strips, quality controls, and information and communication management tools. The CardioChek PA, CardioChek Plus and CardioChek Home Cholesterol Test System analyzers are used for cholesterol management.  Medical professionals use these devices for screening and education, and home users, to supplement cholesterol management between physician visits.
Our test systems are simple and convenient to use. The CardioChek analyzers are one of the fastest, cost-efficient, and user-friendly methods to accurately determine lipid values. Handheld and battery-powered, CardioChek analyzers require a small blood sample from a simple fingerstick. In as little as 90 seconds, CardioChek test systems provide values and measurements using the same technology as clinical laboratories.
PTS Panels® test strips offer medical professionals the ability to perform more than 10 unique test including total cholesterol, HDL cholesterol, triglycerides, and glucose. In addition, the CardioChek system also calculates cholesterol ratios. PTS Panels controls provides assurance that the system is working properly.
​Certified by the Cholesterol Reference Method Laboratory Network (CRMLN) and National Cholesterol Education Program (NCEP), CardioChek analyzers are FDA-cleared, CE-marked, internationally registered, and are CLIA-waived by the Centers for Medicare & Medicaid Services.