U.S. Reimbursement - Professional
Steps to Obtain Medicare Reimbursement for Lipid and A1C Testing
The first step for a physician office to obtain Medicare reimbursement for point-of-care lipid and A1C testing is to obtain a CLIA Certificate of Waiver. The physician office or laboratory will need to pay a fee every two years, and agree to follow manufacturer's instructions for performing clinical lab tests.
PTS Diagnostics provides links that will take users directly to the Centers for Medicare & Medicaid Services website to begin this simple process:
1. Instruction on how to complete CLIA Certificate of Waiver form1:
CLIA-Certificate-Brochure.ptsdiagnostics.com
2. PDF of CLIA Certificate of Waiver form2:
CLIA-Certificate.ptsdiagnostics.com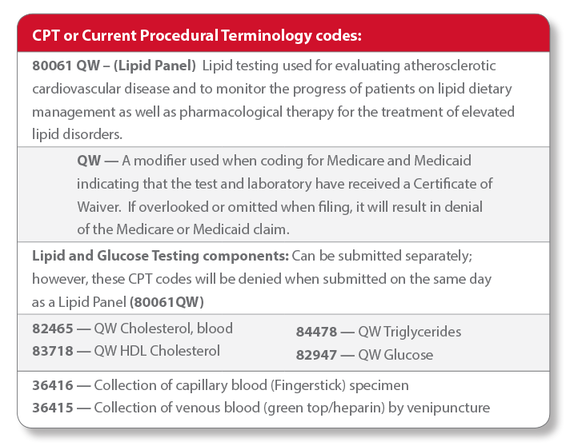 Frequency Limitations: 
Patients on anti-lipid dietary/drug therapy
•  One lipid profile per year
•  One component of lipid panel or direct LDL up to 6 times during the first year
•  Total cholesterol or direct LDL up to 3 times per year after treatment goals are achieved
•  Triglycerides if elevated or patient is on drugs which may raise triglyceride levels