CardioChek analyzers utilize Bluetooth® technology for easy data transfer.
The PTS Connect™ adapter provides Bluetooth connectivity between the CardioChek PA or CardioChek Plus analyzers and the PTS Connect universal solution or other third-party data management systems. With easy setup, and simple pairing instructions, users can quickly transfer data to most Bluetooth-equipped systems running Windows or Android.
The CardioChek family of lipid and glucose analyzers provides results in as little as 90 seconds, all from a simple fingerstick. These portable, handheld analyzers are battery-operated and test strips do not need to be refrigerated. The CardioChek Plus analyzer offers wireless connectivity and, with the PTS Connect adapter, can now support Bluetooth connectivity.
PTS Connect solutions offer complete turn-key population health management allowing healthcare professionals to digitize biometric results, easily transfer data without an Internet connection and engage with end-users and encourage ongoing wellness with an online wellness portal. The PTS Connect solution allows healthcare professionals to screen more individuals faster and is designed to improve participants' health with ongoing online engagement after the biometric collection.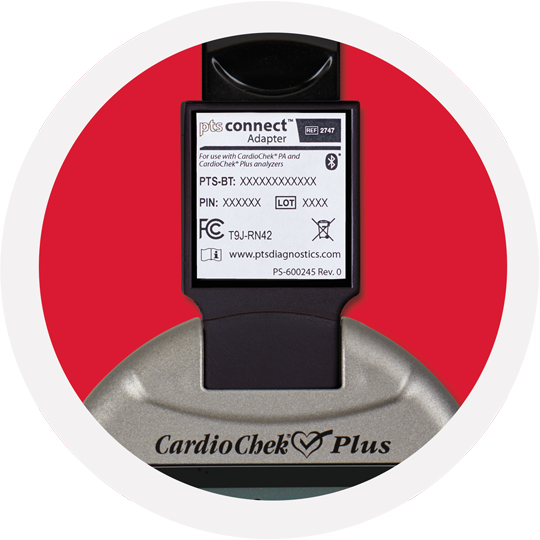 Benefits
CardioChek analyzer Bluetooth connectivity
Data transfer to PTS Connect Universal Solution
Reduces transcription errors
​Improve screening efficiency and participant throughput