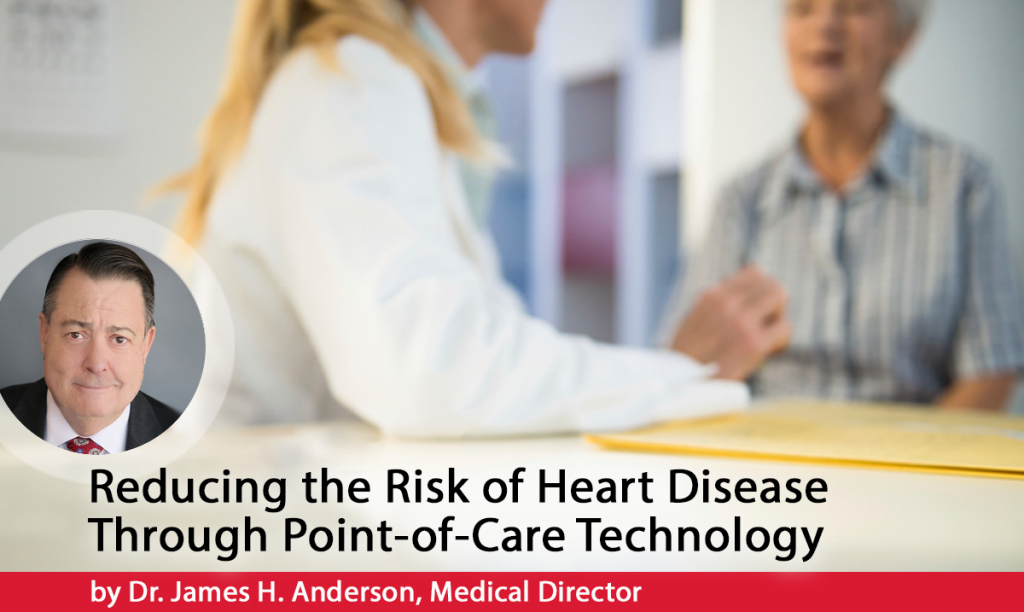 A heart attack occurs every 40 seconds and heart disease is the leading cause of death in the United States, per the Centers for Disease Control and Prevention. This is a reality that I know all too well – just last year, I went into cardiac arrest without warning. I owe my life to the heroic efforts of my son, a former Special Forces Army medic who assisted me until the paramedics arrived, as well as the medical team at Baylor Medical Center-Dallas who successfully completed my heart transplant.
I'm thankful to have the opportunity to continue my career as Medical Director of PTS Diagnostics and to help improve the lives of those suffering from comorbidities such as diabetes and heart disease.
This personal experience further ignited my passion for helping to curb our nation's heart disease epidemic. Unfortunately, it's my professional opinion that the prevalence of heart disease will continue to grow. This is due to an aging population and busy lifestyles that cause millions to forgo physical activity, regular doctor's visits and healthy food options, as their health declines.
These regular doctor's visits, termed 'compliance,' are an often-overlooked issue when caring for patients with or at risk of heart disease. If a doctor sends a patient to a laboratory, there's a chance they may forget to go or opt not to because traditional laboratory tests can be time-consuming and intrusive. Moreover, if a patient takes an intravenous test onsite, results often take days to come back and the doctor may have trouble reconnecting with the patient to share them. This disconnect in the testing process costs many people time that they really don't have in terms of reducing the risks of further complications if heart disease is present.
Emergent technologies, such as point-of-care testing, can slow this trend and reduce the spread of heart disease by providing timely results and reducing treatment gaps.
In the past, patients had to fast for 8 – 12 hours before a blood test. Now, non-fasting lipid panels (cholesterol, LDL, HDL, and triglycerides) and fingerstick blood glucose control can be performed via A1C testing for the greater convenience of the patient. The sooner that a doctor can identify a potential heart issue, the earlier treatment can begin. Our CardioChek® product line is CLIA-waived, meets NCEP guidelines for accuracy and precision, and delivers a full lipid panel in as little as 90 seconds.
The ability to walk into a clinic, pharmacy, or physician's office and leave with test results and a plan for care has the potential to take a huge burden off of our healthcare system. It's my hope that the healthcare workers on the front end of our nation's heart health epidemic will take steps to incorporate point-of-care technology into their treatment plans.
For more information about heart health and how PTS Diagnostics is innovating point-of-care testing, stay tuned to our social media channels and check out resources such as the CDC or the American Heart Association.
Dr. James H. Anderson | Medical Director
Dr. Anderson trained in Internal Medicine and specializes in Endocrinology. He has 35 years of clinical and research experience, including Interim CEO at Antigen Express, Inc.; Director and Senior Scientific Advisor of Generex Biotechnology Corporation; CEO and President of Symcopeia Company; Clinical Associate Professor of Medicine at Indiana University School of Medicine; and Senior Medical Director for Diabetes and Cardiometabolic Medicine at Eli Lilly and Company. Fellowships include the American College of Endocrinology and the Faculty of Pharmaceutical Medicine of the Royal Colleges of Physicians (UK). Dr. Anderson has degrees from Louisiana State University School of Medicine, New Orleans, and Centenary College of Louisiana.