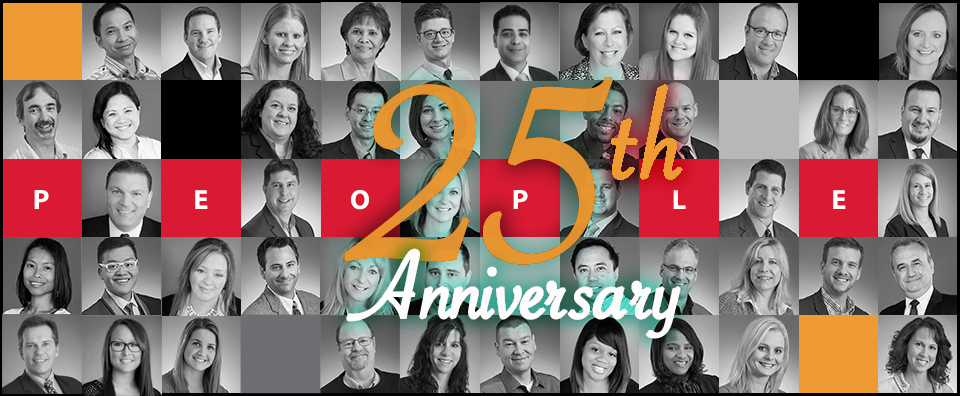 Looking back, it's hard to believe that I've called PTS Diagnostics home for 10 years – joining our family in 2007 in a domestic sales capacity before making the transition to global sales, then Chief Commercial Officer earlier this year. It's even more humbling to comprehend that for 25 years, PTS Diagnostics has been offering innovative and affordable point-of-care solutions impacting those living with chronic diseases.
As we charge into 2018, it behooves us to reflect upon the people and organizations that have played a role in our growth and success the last quarter-century.
PTS Diagnostics' Mission and Growth
PTS Diagnostics was founded on the premise that testing for more than just glucose could be a quick, accurate and relatively inexpensive process. It was our vision, dating back to 1992, to expand point-of-care capabilities and bring testing to health fairs, physician's offices and consumer's homes. Little did we know that that this ambitious, yet relatively simple concept would change the world over the next 25 years.
Any type of "disruptive" technology encounters resistance in its infancy phase. Initially, central labs and pathologists were very skeptical of point-of-care technologies principally due to accuracy concerns. As such, they forced the device manufacturers to up the ante as it relates to the quality of results and conformity to quality control compliance standards. Fast forward to 2017 when many point-of-care test results are indistinguishable from central lab results and are even relied upon to drive merit-based healthcare incentives.
One of our biggest challenges has been the ability to cling to our core Midwestern values while scaling the business globally in accordance with growing demand for PTS Diagnostics' solutions. This is a mission that Bob Huffstodt, our President and CEO, and our entire leadership team is committed to and cognizant of, even as we grow at rates that are four times the industry average.
Our Place in Global Point-of-Care Diagnostics
We have grown from being "The Little Engine that Could" to a global force on the point-of-care diabetes and cardiovascular disease stage. There are many times when I step back and have to take a deep breath understanding the responsibility that goes along with our role in the global healthcare market.
With the advantage of a quick turnaround time and immediate coachable moments serving as discernable benefits, I would challenge the healthcare system to operate effectively and efficiently without point-of-care solutions. Think patient satisfaction, provider satisfaction, population health management and health outcomes, and try to do that without point-of-care solutions; I don't think it can be done and that to me is why we're poised to help solve major healthcare problems.
Recent Successes
It is a great time to be working at PTS Diagnostics. Our overall growth continues at such a pace that we are planning to build a new global headquarters in Indianapolis, which will open in 2019, and position us well for the foreseeable future. We have very ambitious growth plans for not only our core products, but a number of promising R&D and business development initiatives. We also continue to enjoy the support of our parent company, Sinocare, who has been a great partner since acquiring PTS Diagnostics in 2016. They are very committed to our mission and our people.
Our footprint and overall business presentation have evolved significantly over just the past 10 years, and we have increased automation and office space as the business has grown. Our thriving Sunnyvale location was added in late 2013 when we acquired the A1C Now® product line from Bayer. Shortly, we will be announcing a new retail point-of-care software and a new portable data capture system for screening professionals that are poised to craft a niche in the growing field of population health.
In our line of work, success equals transformation of healthcare and access for traditionally underserved or critically at-risk patients. Therefore, I'm exceptionally proud of the projects that we are working on with the World Health Organization in Africa, National Diabetes Prevention Program in the UK, Discovery Health in South Africa and the Federal Government in Mexico. These are truly transformational and impact the health of entire sub-populations. I get excited when we open up new vertical markets in the U.S. and around the world because that to me equals access, which ultimately equals positive change.
Invaluable Customers and Distribution Partners
The main reason that we are who we are today is that we have always listened to our customers and our distribution partners.
I encourage customers to embrace this commitment and to continue to let us know what they need and what the market needs to help control and manage the chronic diseases that we help to identify and manage every day. Above all, know that we appreciate our partners, the patients and the responsibility of what we do, and are thankful for being a small part of making the world a better place.
Employee Values
PTS Diagnostics is a company that has more than once been told that what we are trying to do is impossible. Whether it be ambitious product improvements, daunting shipping deadlines for massive tenders or bringing a new high-quality product to market in record time. This company ALWAYS delivers. We work evenings, weekends, holidays, whatever it takes to get the job done and that is a true badge of honor, especially given the Midwestern roots of many of our employees.
When we acquired the Sunnyvale operation in 2013, I did not know what to expect. Yet, I have to say I have been blown away as they share the same values and work ethic as the Indy team and the global sales teams. I really think the "PTS Diagnostics-way" is contagious within our organization and for that, I really can just thank everyone as this team is the best in the business top to bottom.
Positioning for Future Milestones
Factors within the global marketplace such as where testing is accessed and how it is paid for change rapidly, making it important to be flexible and staying ahead of the curve, given that we transact in more than 140 countries.
Additionally, we must innovate, not only due to competitive forces but to meet the needs of a world that necessitates better access to technology. Highly accurate, non-refrigerated, stable platforms which require minimal pre-analytical interaction and can be delivered in a cost-effective manner are paramount in the world in which we live. We need broader menus and ability to transmit results to a plethora of data capture tools that exist today and are being developed for the future. The to-do list is staggering, but that is why this industry is a blast to be a part of.
A Sincere Thank You
From the bottom of my heart, I'd like to say thank you to ever
yone who has made our success possible, and who dedicates themselves to ensuring that those suffering from chronic conditions receive the quality and efficiency of care that they deserve. It's important that we remember the real-world impact that our company has and use this as motivation to continue to grow, innovate and revolutionize our industry over the next 25 years.
Stephen Riendeau | Chief Commercial Officer
Mr. Riendeau joined the PTS Diagnostics in 2007 after 17 years of industry-wide sales experience with Specialty Laboratories, Inc., Myriad Genetic Laboratories, Orca Medical Systems, and Abbott Laboratories, Inc. His professional experience prior to PTS Diagnostics included the servicing of individual accounts, territory management, field sales management, and executive direction of corporate accounts. He has overall responsibility for PTS Diagnostics' global sales in all healthcare segments, sales distribution, and the development and execution of the company's strategic sales plan. Mr. Riendeau received a Bachelor of Arts in Economics from Florida State University.