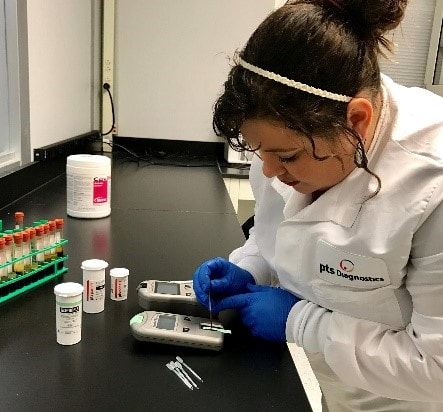 ​It's rewarding to work for a comprehensive point-of-care diagnostics company that designs and manufactures products used for testing cardiovascular heart disease, diabetes and more. Anyone who's ever been impacted by these diseases knows how important fast and accurate test results are. Accurate results aid in physician decisions and in many cases can provide peace of mind for those undergoing routine laboratory testing.
Healthcare providers in 135 countries trust the CardioChek® and A1CNOW® to help in diagnosing and treating patients at the point-of-care. Ensuring that these analyzers perform and produce quality results is a top priority. One of the most important aspects to my role as Director of Clinical Laboratory Medicine is to give our customers confidence in our analyzers and results.
​Verifying that our technology works correctly can identify potential testing issues. Proficiency testing is a part of a quality assurance program that reassures the accurate performance of our products. It's an effective tool because it not only tests our analyzers, but the testing process itself. Even though it's not required in most states, we encourage all of our customers to pursue proficiency testing through American Proficiency Institute. This third-party proficiency testing program provides an extra boost of confidence in PTS Diagnostic's analyzers and their results to patients and physicians.
All of our analyzers are eligible for proficiency testing. The biggest takeaway that I want to leave with decision makers at medical facilities is that proficiency testing is just one more arrow in your quiver. It gives confidence in the ability of a test system to provide quality results and can help to proactively identify any potential issues that could be seen down the road. This is why I believe proficiency testing is an important quality assurance tool for our A1CNOW+ and CardioChek systems.
I encourage anyone with questions about beginning this process to connect with us to learn more about PTS Diagnostics.