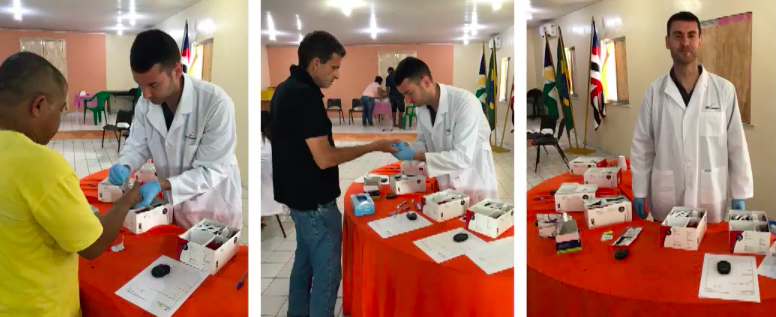 In today's hustle and bustle society, it's easy to become so encapsulated in day-to-day life that we fail to think globally. I'm fortunate that my role at PTS Diagnostics allows me to escape my personal 'bubble' and experience firsthand the global impact that our point-of-care technology makes.
One such unforgettable experience occurred in the remote town of Santo Amaro do Maranhão in northern Brazil. The town is home to about 4,000 residents, many of whom don't have regular access to healthcare and may drive 5+ hours to the city of São Luís just to obtain it. Needless to say, time and money prevent many from making the trip unless it's imperative.
Through a partnership with our regional distributor, NL Diagnostica, we worked with the town's mayor and members of the local government to organize a health event using our A1CNow®+ system. These are fantastic analyzers for such events because they provide accurate HbA1c results in minutes with just a simple fingerstick.
It was an enormous success. We tested 115 residents between the ages of 7 – 87 and identified numerous individuals who were unaware that their results fell into prediabetic and diabetic ranges. They were then directed to physicians who can help to develop and implement personalized treatment plans, potentially altering the course of these individuals' lives.
Similarly, another recent health event in Mato Grosso, Brazil used our analyzers to test 160 individuals and identified 43 of these individuals whose results fell in ranges that may signify prediabetes or diabetes.
The importance of programs like this cannot be understated. Diabetes, heart disease, and their associated comorbidities are an international epidemic. According to the World Health Organization, the global prevalence of diabetes among adults has risen from 4.7 percent in 1980 to 8.5 percent in 2014 and it rises at a much higher rate in middle and low-income countries. Grassroots initiatives such as the events in Santo Amaro do Maranhão and Mato Grosso help to reach the underserved communities that need point-of-care testing and healthcare support the most.
PTS Diagnostics is currently represented in 135 countries and we're increasing our commitment to international events in 2018. Other global health events on the calendar for the remainder of the year include locations in South America, Europe, and numerous global trade shows and industry meetings.
Interested in learning more about the global impact of our point-of-care analyzers connect with a PTS Diagnostics sales rep and follow us on LinkedIn, Twitter, and Facebook for periodic updates.