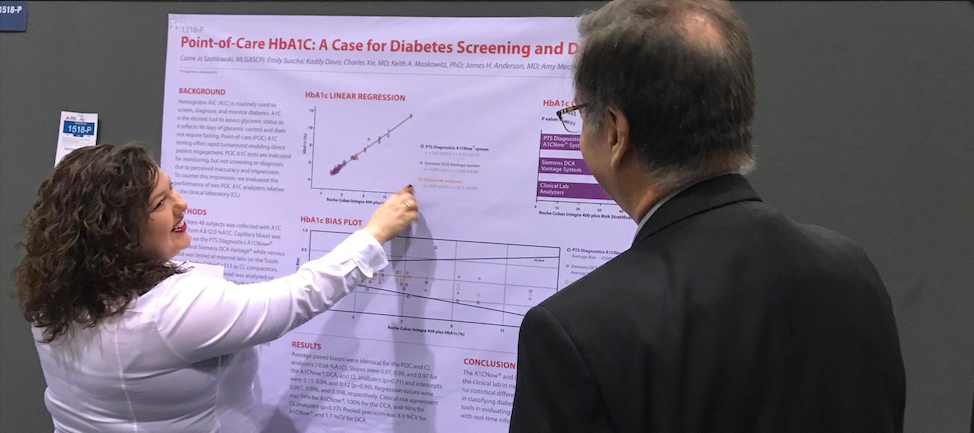 ​Our team recently had the pleasure of attending the
American Diabetes Association's 78th Scientific Sessions
in Orlando. This five-day event was attended by more than 16,000 researchers and healthcare professionals from around the world, making this a unique opportunity to learn about and share significant advances in diabetes research, treatment, and care.PTS Diagnostics was honored to participate through both an exhibitor booth space and a poster presentation titled, "Point-of-Care HbA1C: A Case for Diabetes Screening and Diagnosis." This poster presentation was on display throughout the event and used clinical research to advocate for the use of our 
A1CNow®+ system
and other similar analyzers in the screening or diagnosis of people with diabetes.
This poster presentation will be available on our website for download in the coming weeks.
At our booth, the focus was on our CardioChek® analyzer (Lipid + eGLU®) and A1CNow®+ system as we successfully demonstrated each product to 400+ attendees and experienced constant foot traffic. The trade floor was abuzz about our point-of-care solutions and we relished the opportunity to connect these solutions with the PTS Diagnostics brand.
Overall, we were thrilled to have experienced our 5th ADA in 2018 and are already looking forward to the 2019 American Diabetes Association's Scientific Sessions in San Francisco!
---