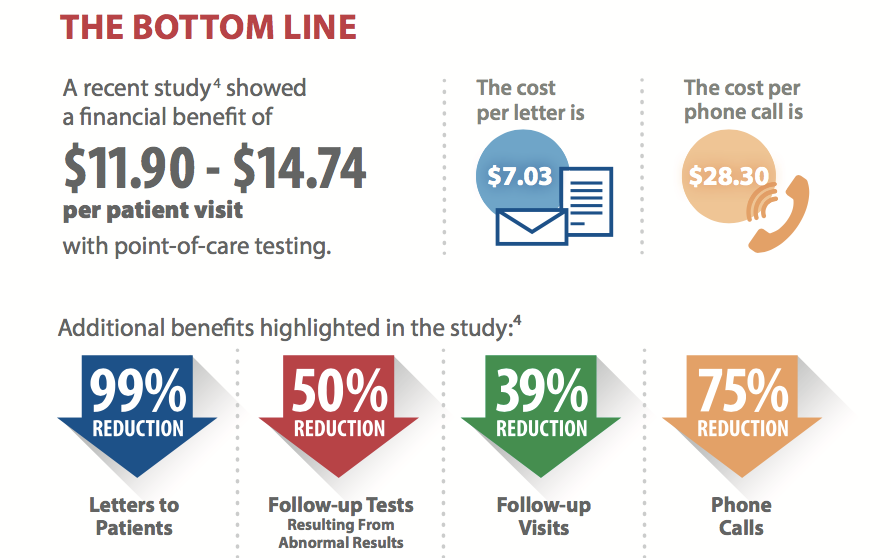 The Medicare Access and CHIP Reauthorization Act (
MACRA
) rewards providers through merit-based incentives. In laymen's terms, doctors will now be paid based on patient outcomes through value-based care rather than the number of medical tests and treatments provided.
With a performance payment period for these merit-based incentives set to begin on Jan. 1 2019, we've outlined a case for utilizing point-of-care technology to make treatment more effective and cost-efficient.
Fingerstick technology at the point of care fits seamlessly into the new age healthcare model by providing results in minutes instead of days. This in-office testing can allow physicians to accomplish more with each patient visit, including real-time coaching. The risk of worsening health between a test and its results is eliminated, thus potentially shortening the time it takes to improve a patient's overall health.
Additionally, less administrative work associated with laboratories and a reduction in venipuncture blood draw equipment means that substantial healthcare savings may occur when transitioning to fingerstick technology for the management of chronic conditions such as diabetes and cardiovascular disease.
These benefits are quantified in a recent study published by the American Association of Clinical Chemistry showing a financial savings of roughly $13 per patient, per visit, when point-of-care testing was utilized. Not only can this add up to significant savings, but it can potentially result in greater patient and provider satisfaction. Patients have the potential to be happier and healthier when the wait for laboratory results is eliminated and providers can experience increased administrative efficiency, allowing them to spend more time focusing on their patients. A win-win solution.
Physicians and healthcare decision makers interested in learning more about point-of-care testing and medical devices are encouraged to contact PTS Diagnostics about the benefits of using our CardioChek® analyzers or A1CNow®+ systems in their practice.