PTS Diagnostics has evolved by leaps and bounds since I was fortunate enough to join the leadership team in 2014. In just the past three years, we've been able to significantly grow the value of our company through innovation in existing markets, establishing our presence in new markets and introducing state-of-the-art products. This led to the acquisition of PTS Diagnostics by Sinocare in 2016 and begins an even more exciting time for our company.
The acquisition opens new opportunities for growth and allows us to create a new future – one that looks exceptionally bright thanks to our talented team and winning culture.
Leadership and career growth has long been a passion of mine. In fact, I developed a  Leadership Pyramid and Leadership Readiness Assessment, published by Strategic Finance Magazine, that helps identify the preference and readiness of an individual to move into a leadership role. At PTS Diagnostics, our success is a result of identifying internal leaders and bringing in expert talent from the outside to mentor and develop these up-and-coming leaders. Below are just a few of the ways in which we're molding leaders to grow and advance our company: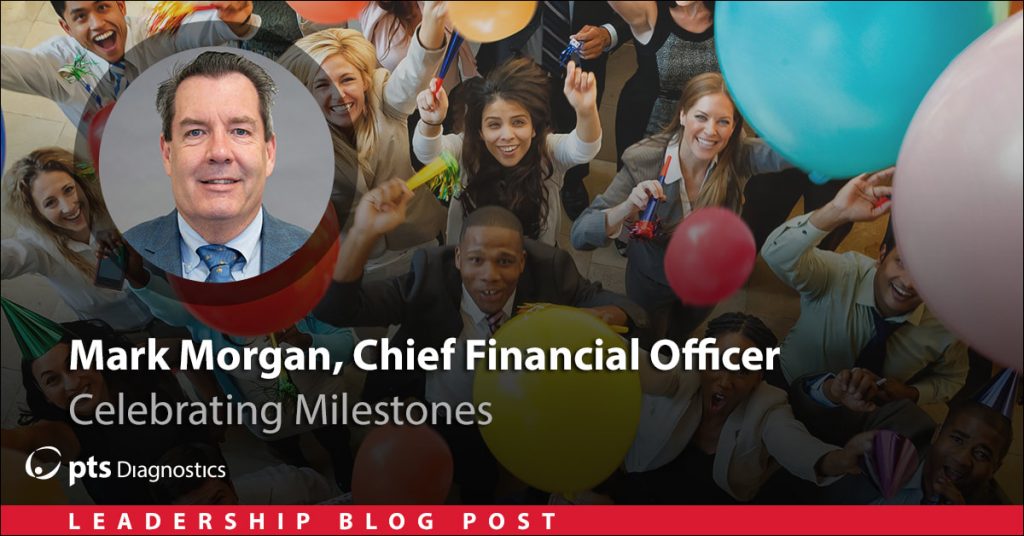 Celebrating Milestones and Accomplishments 
In a company of 200+ individuals, accomplishments and daily wins often get overlooked in an effort to quickly and efficiently move onto the next task. This is a mistake. Taking just a minute to thank people and recognize their quality work motivates all employees to see their role in delivering our targeted results. 

​PTS Diagnostics is celebrating its 25th anniversary this year and we couldn't have reached this milestone without the dedication of our talented employees.
Our culture was built by seamlessly intertwining employees of 10+ years with new positions and faces. As the depth of our talent continues to grow, we'll be able to thrive for many years to come. ​​
Establishing Trust and Respect
Ultimately, every person will ask themselves if they trust the company and its leaders to take care of their family. It's not a leader's role to come up with groundbreaking ideas, but rather to create an environment where people feel their commitment is rewarded with a satisfying work environment and a company they can go home to at night and feel proud to be a part of.
Communication and teambuilding are two essential, yet easy ways, to establish trust and respect. PTS Diagnostics has made great progress the past three years to increase our employee appreciation and recognition events. Our CEO does a great job of communicating at these events, and we all leave the event as a better team.
Continuing Education
Continuous learning is also essential for an organization to move into its next phase of growth. PTS Diagnostics constantly studies our market, competition and emerging technologies. We then look for opportunities for team members across the organization to advance an idea, concept, or project as part of our strategy to optimize outcomes. The market and competitive environment are constantly shifting, so our organization must be agile as well.
As for myself, I try hard to keep up with the latest thoughts on leadership. I recently finished two excellent books, "Leaders Eat Last" and "The Road to Character". Staying immersed in the latest leadership opinions and trends challenges me to be my best.
I'm proud to be a part of the PTS Diagnostics team and all that we've been able to accomplish as an organization. As we continue to deliver, celebrate our wins and develop leaders, the sky is the limit.