In the first of our "Stories From the Field" blog series, we speak with Area Sales Manager, Carolyn Lee, about her passion for community wellness and the important role that point-of-care testing has in achieving this. Carolyn is a leader on the sales team and has a tremendous impact on both our company and the point-of-care medical device industry.
Q: How long have you worked for PTS Diagnostics and how did you get your start in sales? A: I've been with PTS Diagnostics for more than five years and I couldn't be more satisfied in my career. I graduated from the University of North Florida with a Master of Science degree and knew that I wanted to work in the healthcare field in some sense. When I was exposed to the product line at PTS Diagnostics and our cutting-edge technology, I dove headfirst into a sales role knowing that I'd have the chance to change many lives for the better.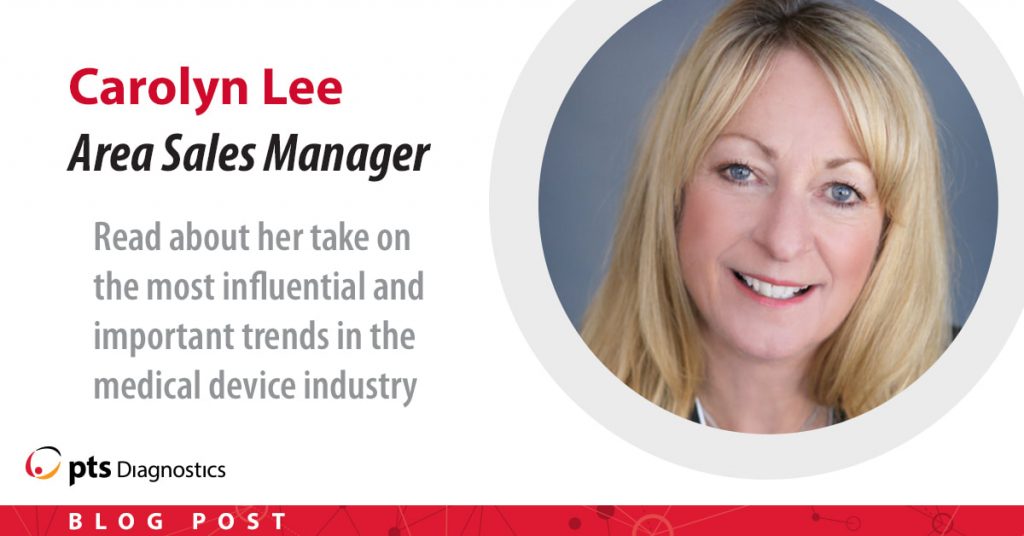 Q: What is it about your role that excites you on a daily basis? A: Working for an organization whose products can influence and change the lives of those with diabetes, heart disease and other related chronic diseases is incredibly rewarding. It drives me to go the extra mile in educating physicians, community health centers, diabetes coalitions, public health departments, etc. about the benefits of our point-of-care solutions.
Q: What trends in the medical device industry have you noticed over the past five years? 
A: The biggest trend I've noticed is an improvement in the technology behind medical devices. Not only can we offer quick solutions, but with it, an increase in accuracy and ranges combined with the peace of mind that comes with proficiency testing means that there's arguably little difference between point-of-care and laboratory testing.
Another change is the emergence of new markets. The Medicare Access and CHIP Reauthorization Act allows healthcare professionals to be rewarded for providing fast and accurate solutions. This is a unique opportunity for PTS Diagnostics to benefit acute care providers who realize the importance of decreasing the turnaround time for medical testing.
Lastly, as insurance reimbursement declines, physicians are sometimes hesitant to utilize new testing unless they're required by law. However, an increase in chronic diseases among the U.S. population has left many physicians with the realization that they need to invest in solutions that efficiently manage their patient's symptoms. When medical professionals learn about our products, they recognize the ease of getting near-immediate results and being able to counsel or refer patients within minutes.
Q: What makes PTS Diagnostics special?  
A: Our products allow us to stand apart. Not only do we have the latest technology in point of care, but our solutions save time, labor and help patients manage symptoms.
PTS Diagnostics truly listens to customers and end users and makes product alterations based on their feedback. For example, our CardioChek Plus® Analyzer was developed to respond to the need for our customers to provide a simultaneous lipid and glucose test and has been altered, based on feedback, to provide controls with two strips, as opposed to four.
As a sales manager, I'm constantly talking with the end users of our products and reporting back any and all feedback. We encourage all end users to ask their physicians about how point-of-care testing can help with chronic disease management.
What do you like most about working with our distributors? 
A: Growing relationships with our distributors is essential for increasing PTS Diagnostics' footprint as these partnerships have improved the lives of patients worldwide. Working alongside distribution partners allows area sales managers to expand their reach through introductions of new contacts and opportunities.
What is your sales philosophy? 
A: My sales philosophy is that having a passion for your product is a must. At my core, I view myself as a health educator and my passion for health and wellness drives me to introduce solutions developed by PTS Diagnostics to as many people as possible.
Within my sales process, this occurs at the ground level by targeting individual physicians and those performing community screening events. By getting their buy-in, we're often able to gain an introduction to new distributors and impact the lives of countless people looking to better manage chronic disease.
—
We thank Carolyn for joining us and highlighting the importance of working with our valued distributors to shed light on the importance of PTS Diagnostics' point of care solutions. We encourage anyone with questions about any aspect of this blog to connect with PTS Diagnostics.  ​