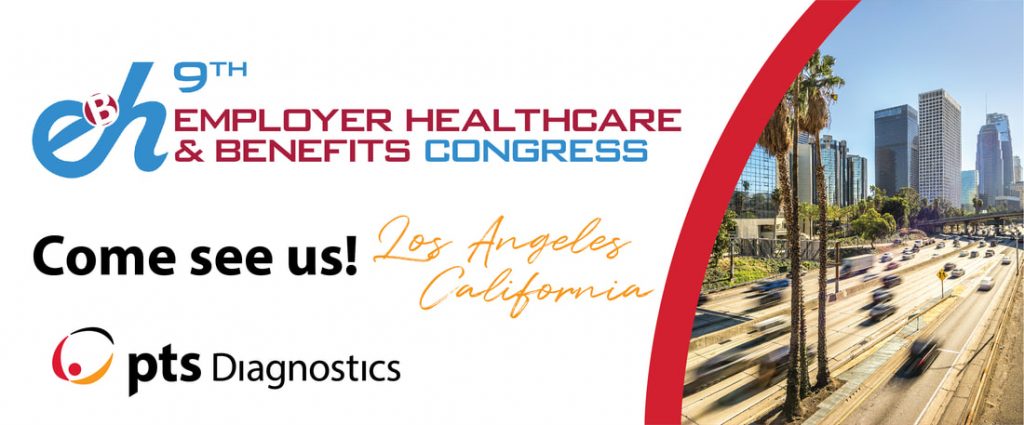 According to the Institute for Healthcare Consumerism, companies that implement a wellness program can experience a 28 percent reduction in employee sick days taken per year. Furthermore, research shows that medical costs may decrease by about $3.30 for every dollar that businesses invest in these wellness programs.
​Based upon this research, it can be the appropriate organizational commitment and financial decision for employers to provide wellness programs that guide their employees to healthier lives. PTS Diagnostics can assist employers in the implementation of these programs by allowing them to integrate point-of-care testing devices in order to monitor and manage employee health data such as HbA1c, cholesterol, triglycerides, glucose, cotinine and more.
October 2 – 4 in Los Angeles will mark our third consecutive appearance at the Employer Healthcare and Benefits Congress (EHBC 2017). This is the leading conference in the employee benefits industry and will be attended by leaders from companies of all types and sizes. The show features 100 speakers from prominent organizations such as LinkedIn, Inc., The U.S. Department of Labor, Nielsen, Phillips 66, MetLife and more.
This group of distinguished professionals is excited about the potential impact that wellness programs can have on their organizations. Likewise, we're eager to share our own wellness solutions with conference attendees and outline the capability of our point-of-care medical devices.
Do you plan to attend EHBC 2017 or are you considering the implementation of a wellness program for your own employees? Visit us at booth 317 and be sure to follow us on Twitter, LinkedIn and Facebook for the latest updates and trends in the employee benefits industry and for more information about how our products are empowering wellness via our cloud-based wellness solution portal. Don't forget to search #ConnectWithPTS to learn more about own unique and exciting corporate culture.
See you soon, L.A.